Living in Anacortes is a dream come true. With its historic downtown, nature parks, and world-class kayaking, there are so many things to do in Anacortes, Washington. One of the most popular activities in Anacortes is boating. Whether your boat is a pontoon, a sailboat, or a yacht, Anacortes is the gateway to some of the best boating spots in the Pacific Northwest. Learn more about the five best-boating destinations from Anacortes.
1. The San Juan Islands, WA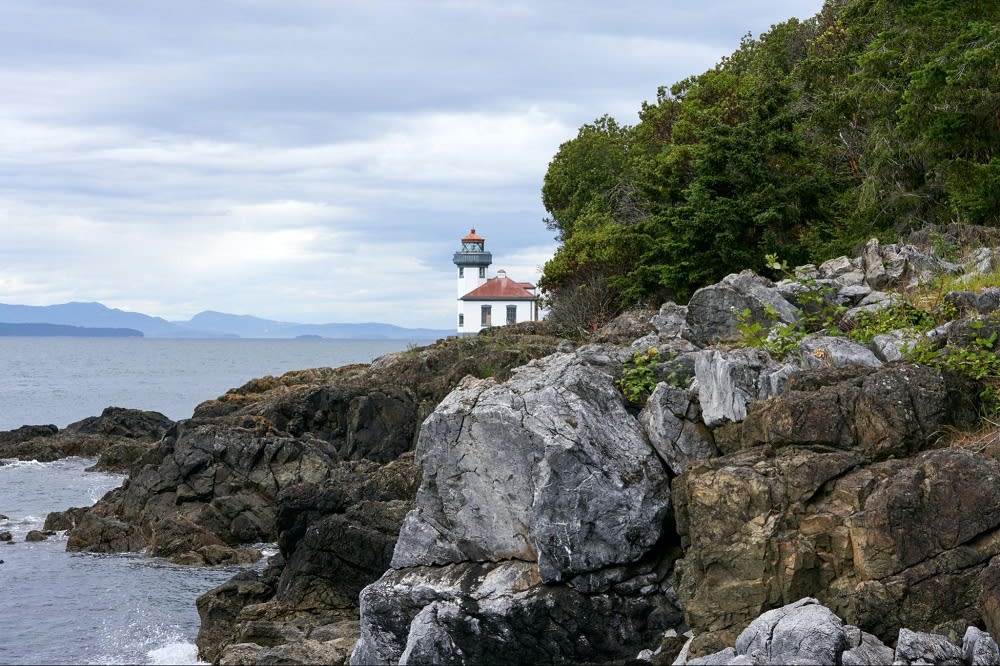 Photo courtesy of Unsplash
With over 170 named islands making up the San Juan Islands, the hardest part about boating here is choosing which island you should visit. But at just over 13 nautical miles away from Anacortes, getting to and from the San Juan Islands is a breeze! While there are hundreds of islands, the
three most visited islands
are San Juan Island, Orcas Island, and Lopez Island. Each island offers a unique experience all its own.
San Juan Island is considered the biggest and busiest island in the archipelago. The three most popular towns are bustling Friday Harbor, charming Roche Harbor, and serene Snug Harbor. San Juan Island has a mix of everything from wineries and restaurants to farms and national forests. Orcas Island, located northwest of Anacortes, is a mostly rural island, with rolling hills and lush forests. A perfect destination for outdoor enthusiasts! While the majority of the island is wooded, there are quaint towns throughout the island. Lopez Island is an incredibly quaint, beautiful island that's great for cycling, bird watching, and kayaking. Each island has well-equipped marinas perfect for boaters. The best part about boating to the San Juan Islands? You're bound to see orca whales during the summer!
Distance From Anacortes: 13.5 Nautical Miles
2. Poulsbo, WA
If you were dropped into Poulsbo and have never been there before, you'd swear you were in Europe. Yet, you're still in Puget Sound. Known as "Little Norway", Poulsbo is a
charming waterfront town
where Nordic and Native American cultures meet, making it one of the most unique towns in the Pacific Northwest. Located on the Kitsap Peninsula, Poulsbo is just minutes from bustling Seattle, yet they feel worlds apart from one another.
Upon arrival, you will be greeted by a statue of a sword-wielding Viking and a sign that says, "Velkommen til Poulsbo!" which means "welcome" in Norwegian. Stroll through the quaint downtown area, where you'll find tons of fabulous restaurants, cafes, and shops. If you visit during the summer months, check out Viking Fest – one of the town's biggest celebrations. Viking Fest is held annually on the Third of July, giving you a reason to celebrate your Independence Day weekend early. For outdoor enthusiasts, Poulsbo also has beautiful hiking and cycling trails and is a fantastic place to go kayaking. With an easily accessible marina and tons of amenities within walking distance, Poulsbo is a perfect day trip for boaters!
Distance From Anacortes: 46.7 Nautical Miles
3. Seattle, WA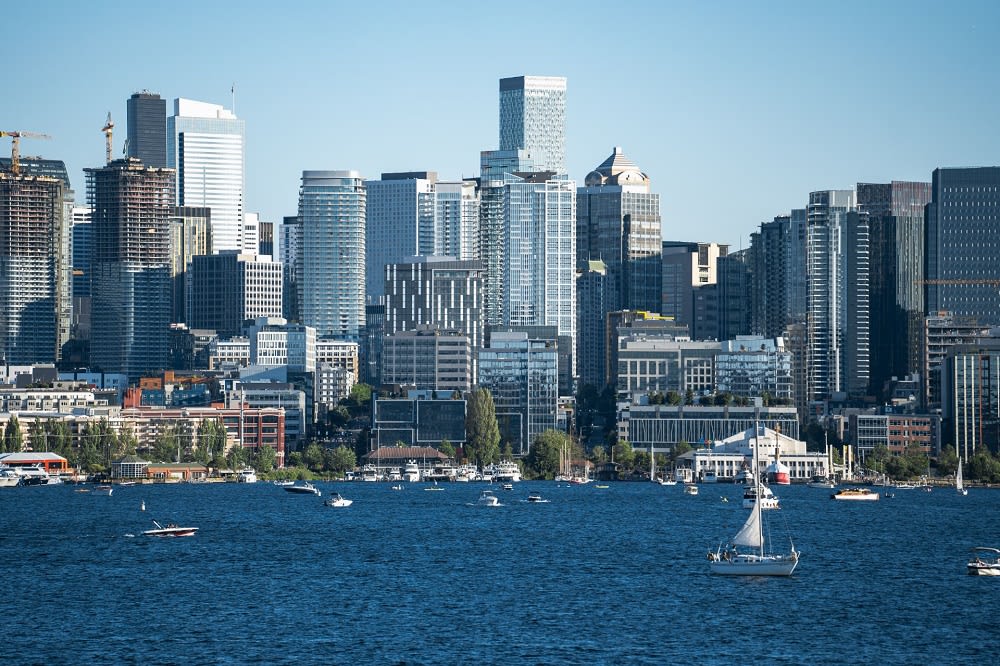 Photo courtesy of Unsplash
When most people think of the Pacific Northwest, Seattle immediately comes to mind. Visit the famous Pike Place Market for an endless array of foods both locally-sourced and imported from all over the world. Pike Place Market is well-known for its world-class fish market, offering fresh-caught fish and even performative demonstrations from skilled fishmongers. After that, visit the Space Needle for panoramic views of Puget Sound. Seattle also has hundreds of restaurants, with nearly every type of restaurant imaginable. Chances are, if you're hungry for it, you can find it in Seattle. It also has some of the best cafes in the country, with amazing coffee and live music around every corner. With its world-class museums, parks, sporting events, and festivals, there's something for everyone in Seattle.
Beyond its endless
amenities and entertainment
options, what makes this city a must-visit for boaters is its ease of accessibility. With dozens of marinas in the area, Seattle is one of the most boat-friendly cities in the U.S, accommodating nearly every type of boat imaginable. Seattle is as boat-friendly as it gets!
Distance From Anacortes: 55.6 Nautical Miles
4. Victoria, BC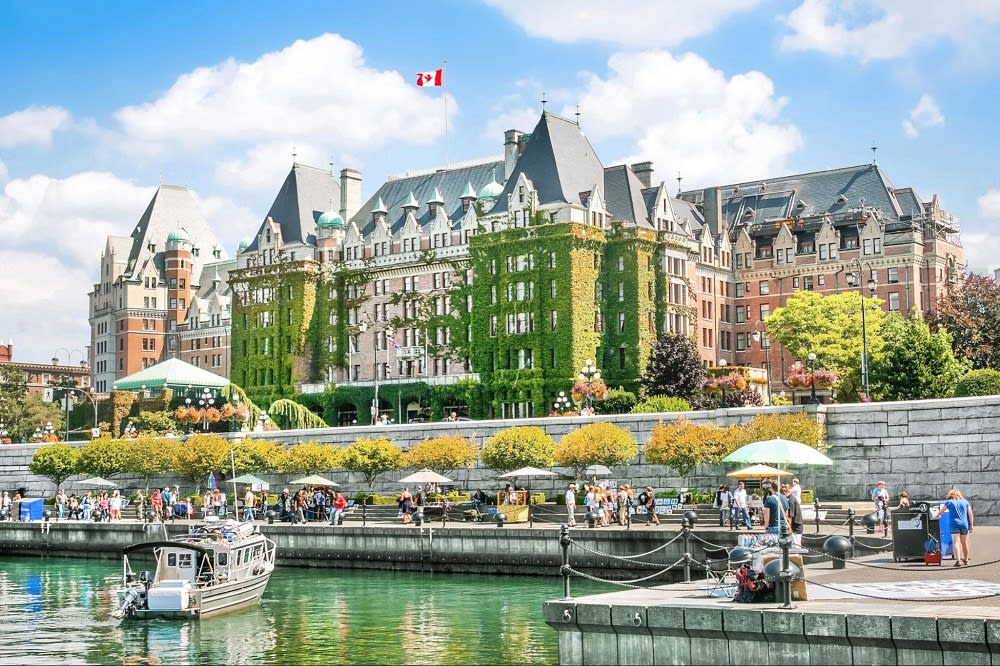 Photo courtesy of Shutterstock
While not as famous as nearby Vancouver, Victoria is one of the most beautiful cities in British Columbia. It has so much history and natural beauty, it's no wonder more and more tourists are visiting this Vancouver Island destination. Start your visit with a horse carriage tour, while exploring this gorgeous city. Or if you prefer to explore Victoria by water, Inner Harbour has many Harbour Ferries that offer tours. Then top it off with a trip to a pub. Better yet, do a pub crawl for a fun way to explore the city. Victoria is also home to many spectacular
museums
, parks, gardens, and historic homes. Craigdarroch Castle is a stunning example of Victorian architecture, with over 20,000 square feet of interior space.
Natural beauty and charm are around every corner in Victoria. Even the Inner Harbour, where you can park your boat, is a celebrated landmark, with the iconic Fairmont Empress hotel as its backdrop. If you visit during the summer months, you're sure to see orca whales and sea otters along the way. Before boating to Victoria, do your research. Remember to bring your passport and other
crucial paperwork
with you before setting off, since this will be checked when you reach Canadian waters.
Distance From Anacortes: 30.4 Nautical Miles
5. Vancouver, BC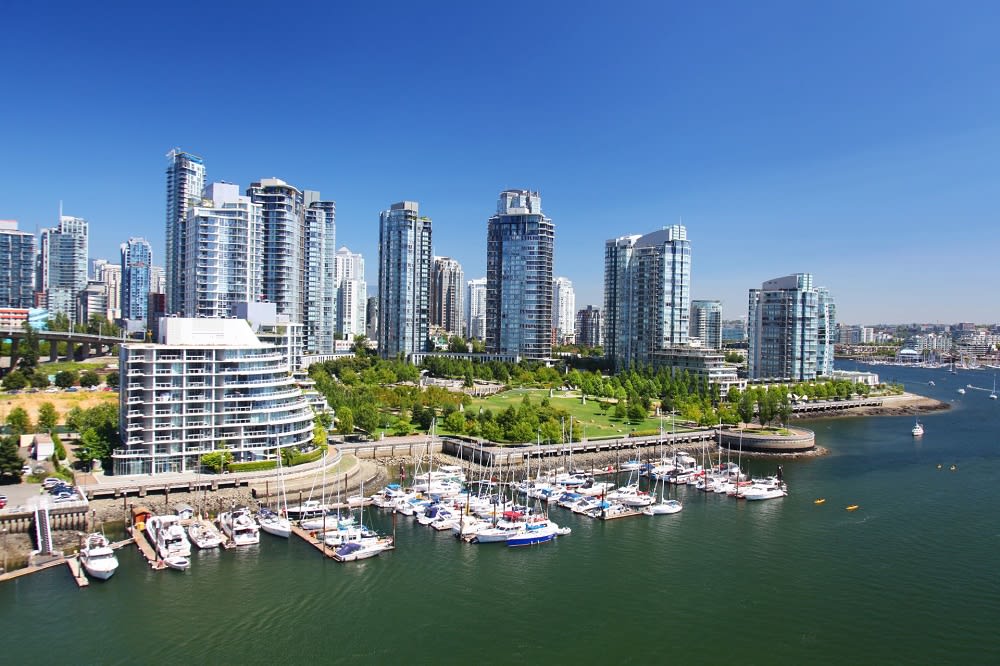 Photo courtesy of Shutterstock
If Seattle is considered one of the United State's most iconic Pacific Northwest cities, then Vancouver is certainly Canada's. Vancouver is not just one of the most stunning cities in the Pacific Northwest, but in North America. Located just over 50 nautical miles from Anacortes, Vancouver is a fantastic destination for a
weekend getaway
or even longer. There's just so much to do in Vancouver. If you are a TV or movie buff, chances are you'll come across some places you recognize on film. Sometimes called Hollywood North, Vancouver is Hollywood's third-largest filming location, behind Los Angeles and New York City.
Check out some of the city's most iconic neighborhoods, including trendy Gastown. Vancouver also has one of Canada's oldest China Towns, rivaling the one in San Francisco. Explore the city's many stunning gardens and parks. Stanley Park is one of British Columbia's largest and most famous city parks, with miles of bike trails. With dozens of marinas all over the city, there are plenty of places to park your boat. Just be sure to have your passport and other important documents with you.
Distance From Anacortes: 50.5 Nautical Miles
Ready to find your dream home in Anacortes?
Are you ready to begin your home search? If you're on the hunt for waterfront homes for sale in Anacortes, Washington, then it's time to work with Heather Taylor and
The Taylor Team
, your trusted Anacortes realtors. Trust the years of experience, exceptional customer service, and unparalleled knowledge of
The Taylor Team
. If you're interested in Anacortes, Washington real estate, contact us today to get started.
*Header photo courtesy of Unsplash